Workshops
As well as the workshops listed here, I can run workshops for small groups at home in Shropshire or I could come to you.
I run workshops in 2D and 3D felt making, natural dyeing and needle felting. I have taught all age groups including in schools. If you would like me to run a workshop for you and a group of your friends or your class, please contact me here.
3 June 2017
3D Felt Making Workshop: Pods and Urchins, Jackfield Village Hall, Jackfield, Shropshire
Introduction to 3D felt making creating little vessels with tails and spikes.
£25
Contact Fiona to book: [email protected]
6 May 2017
Fast Felt-Making Taster for absolute beginners
Two, hour-long community workshops as part of the Secret Severn Art Trail Weekend: 1:30-2:30 or 2:30-3:30.
If you've ever wondered how to make felt, how to make the fluff stick together and how to decorate a piece without the 'bits' falling off, then come along. This fun workshop will teach you to make a simple piece of flat felt with an abstract design.
Each hour-long workshop is offered at a special price of £5, and there are six places per hour. This is offered as part of the Secret Severn Artist's Group commitment to our local community.


6th July 2016
Super Fuzzy Animals
Severn Gorge Countryside Trust, Darby Road, Coalbrookdale, Telford TF8 7EP

Wednesday 6th July 2016: 10-4pm

Using sheep's wool, Fiona will guide us through the needle felting technique to make gorgeous woodland creatures, ... and sheep if you prefer!

Fee: £30

Meet: Severn Gorge Countryside Trust, Darby Road, TF8 7EP NB: arrive 15 mins before start for registration

To book, email: [email protected] or phone 01952 433880
Payment secures your place. See Severn Gorge Countryside Trust's Outdoor Learning Programme for more information.
Pay by BACS, cash or cheque payable to Severn Gorge Countryside Trust
Gift vouchers available: £10, £20, £30.
www.severngorge.org.uk

15th May 2016
Dyeing with Natural Materials
Fordhall Farm, Tern Hill Road, Market Drayton,
Shropshire TF9 3PS
This course is an introduction to the surprising colours of natural dyes. Using fresh and dried plants we will be trying both Botanical Contact Dyeing on fabric and paper and Vat Dyeing with local wool. The intention is to produce small samples and a shade card showing the colours possible using this fascinating and entertaining process. Part of this course will be done in the open air, so please wear warm and waterproof clothes and shoes with covered toes, as we will be using hot liquids.

Please bring a notebook, rubber gloves, an apron and/or old clothes, as the process can get satisfyingly messy. Suitable for adults aged 16 plus. Hot liquids and gas hobs mean that it is not suitable for children, sorry.

Materials provided.

10am - 4pm, £45 (inc lunch).

To book contact Fordhall Farm:www.fordhallfarm.com
01630 638696 or email [email protected]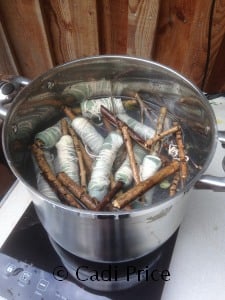 30th September 2015
3D Felt Making - Pods, Gourds and Seeds
FULLY BOOKED
Severn Gorge Countryside Trust
Darby Road Coalbrookdale, Telford, Shropshire TF8 7EP
Download the SGCT outdoor learning programme brochure here.